Wedding Caterers in Guildford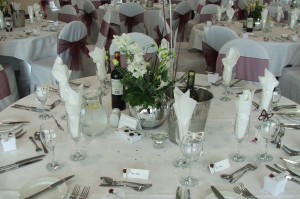 When you choose a wedding menu from Barbecue Chefs, there are a number of things you can be sure about- not only will you have a wide variety to choose from but all of which is guaranteed to taste amazing; the service staff will be cooperative as well as helpful and the tables will look spectacular.
The support and help you will receive from Barbecue Chefs will give you an amazing experience and add an extra special touch to your already special day. Barbecue Chefs is one of the preferred wedding caterers in Guildford and can give you fantastic advice and guidance on choosing the correct menu for your big event.
Berbecue Chefs has managed to obtain a myriad of commendations throughout it's lifetime and continues to adapt it's menus and techniques to suit the current trends. We have been accredited by a number of famous personalities as well as institutes and take immense pride in being highly renowned wedding caterers in Guildford.
You can rely on our experienced team to help you at every turn leaving you to enjoy your special day with your friends and family knowing everything is in safe and experienced hands.
We, at Barbeque Chefs, understand our the responsibility we have been given for your event and leave no stone unturned in carrying out the process with maximum professionalism and efficiency. We take all our accountabilities seriously and is probably the main reason why we guarantee our exclusive catering service in Guildford.
Incredible Wedding Catering You Can Count On
Barbecue Chefs are professional wedding caterers in Guildford who can make all the difference in creating spectacular wedding receptions for happy couples. From delicious starters to yummy desserts, we leave no stone unturned in ensuring your guests love everything about your event.
Exquisite Starters
We take immense pride in offering the most wonderful starters to our customers. Whether you want appetising salads or potted chicken liver pate and grilled aubergines with locally baked bread, we have the expertise to cater to your specific needs.
Scrumptious Main Course
Our skilled team of chefs ensures that your chosen menu is executed to utmost perfection on the day. From Roast Lamb and Baked Salmon with potatoes to mushroom stroganoff and roasted duck breast, our specialty lies in a wide range of food. This means that a selection of the greatest main foods will be served to the centre of tables for your guests to feast upon.
Delectable Desserts
We understand that desserts can make or break your impression on guests. So, we provide a wide range of mouth-watering desserts, leaving your guests with an event to remember. Starting from Ferrero Rocher Stands and chocolate fountains to cupcake sticks and palm tree packages, we wedding caterers in Guildford who have got everything to serve your guests with.
Tempting Drinks
In addition to offering delicious three-course meals, we can even serve the best drinks for giving a great finishing touch to your special occasion. Our wide range of carefully selected drinks beautifully complements each of our dishes. Our cocktails and wines can even be tailored to fit around the dietary requirements of your guests.
Whether you prefer seated meals, cold buffet, hog roasts or BBQs, we are wedding caterers who can adapt to any environment, regardless of how small or large the venue is. No matter what your inspiration is, we can help you create the perfect menu for your tastes and needs.
Our all-inclusive services include:
Custom-made consultation and event planning assistance
Venue arrangement and high-end coordination
Personalized menu selection from a wide variety of dishes including continental as well international choices
With years of experience in working for wedding events, we have managed to earn a matchless record and therefore can be trusted to take the best care of your event. We have catered at a number of Guildford's top venues and have always fulfilled our clients expectations.
From our efficient staff, the finger licking food options, the quality of the menus and the way they are presented, we feel we are the first choice for wedding caterers in Guildford.
If you have any questions please don't hesitate to Contact Us.